27 January 2011
Posting should be very sparse for a week or so
Not that this is uncommon.
Posted by Evan @ 01/27/11 09:11 AM | Comments (0) &nbsp &nbsp &nbsp &nbsp
&nbsp
---
26 January 2011
Senate posts roundup
* Michael Williams will announce his candidacy tomorrow at a Texas Tribune event.
* My TexasTribune column is currently 10th in most viewed. If you haven't clicked the recommend button over there, I would be appreciative if you did. Shoot me an email if you do: perryvsworld -at- gmail
* Via Jason Embry, it doesn't look like Elizabeth Ames Jones got a large crowd at her Austin announcement. Not a good sign, though it's very early and not a big deal yet. It's not as bad as being a sitting senator and getting less than 20 people to your long-awaited announcement in your hometown.
* Lawrence Person goes through the starting campaign finance balances for Republicans and Democrats running for the Senate, according to FEC reports. I didn't doublecheck the numbers but they all look right.
* South Steps isn't a fan of a few of the GOP Senate contenders: part 1, part 2, part 3.
Posted by Evan @ 01/26/11 05:10 PM | Comments (0) &nbsp &nbsp &nbsp &nbsp
&nbsp
---
25 January 2011
Trib column on Dewhurst vs the field
Best analysis of the Texas GOP Senate primary I have read so far. I'll try to comment more later.
Posted by Evan @ 01/25/11 02:00 PM | Comments (1) &nbsp &nbsp &nbsp &nbsp
&nbsp
---
24 January 2011
Ugh
Ugh. This John Kelso column picking on Anita Perry not only was in poor taste, but it wasn't funny.
Posted by Evan @ 01/24/11 10:42 PM | Comments (0) &nbsp &nbsp &nbsp &nbsp
&nbsp
---
66% pick Dewhurst?
66% of Texas insiders picked David Dewhurst as the next junior Senator from Texas.
Even though I'm firmly in the "conventional wisdom overrates the certainty that David Dewhurst will be the Republican nominee for Senate" camp, if the Texas Tribune had polled me, I'd have picked Dewhurst. He's just too likely to make a runoff at this point not to be the pick. But that could change pretty easily.
Posted by Evan @ 01/24/11 10:31 PM | Comments (0) &nbsp &nbsp &nbsp &nbsp
&nbsp
---
21 January 2011
Joe Barton also looks unlikely, Mike McCaul considering
As I predicted, Joe Barton doesn't look likely to run for Senate, según La Loma:

"I'm looking at the race, but I've got to talk to David Dewhurst and I've got to talk it over with my family," Barton told The Ballot Box, adding that he and Dewhurst are "very good friends."

That Dewhurst will run for retiring Sen. Kay Bailey Hutchison's (R-Texas) seat is just about a certainty, according to Texas Republicans.

"I recruited him into the Republican Party way back when and we're still very good friends, so I would want to visit with him and talk about it before making a decision," said Barton.
I had never heard that italicized part, but I definitely don't think Barton did Dewhurst any favors by mentioning it now.
Meanwhile, also according to the Hill, Mike McCaul didn't rule out a Senate bid.
Posted by Evan @ 01/21/11 11:29 PM | Comments (0) &nbsp &nbsp &nbsp &nbsp
&nbsp
---
20 January 2011
Ron Paul not looking to run for Senate
I initially predicted that Ron Paul "probably won't run," but according to National Journal:

A Senate run "only crosses my mind because people ask me about it," said Paul, whose son and fellow Republican, Rand Paul, was sworn in as Kentucky's junor senator earlier this month. "I don't think it's a real possibility."
Paul probably doesn't want to get too distracted from the fun he's planning to have badgering the Ben Bernanke from his perch as chairman of the subcommittee that oversees the Federal Reserve. Still, while he's not thinking about it now, that's not to say he won't in the future. The filing deadline is about 350 days away.
Posted by Evan @ 01/20/11 03:09 PM | Comments (0) &nbsp &nbsp &nbsp &nbsp
&nbsp
---
Jeb Bush on Education
I've never understood why people think Jeb might be persuadable to run in 2012. He sounds as far from a candidate as he could.
Texas connection: unlike his big brother, Jeb was actually born a Texan.
Posted by Evan @ 01/20/11 02:52 PM | Comments (0) &nbsp &nbsp &nbsp &nbsp
&nbsp
---
Texas Republican primary poll numbers from PPP
If the 2012 Senate ballot test was essentially just a function of partisan strength and name ID, then these numbers are just name ID. It's an approximate starting point for the race from an out of state pollster, not much else. Still cheers to PPP for polling.
PPP, 1/14-1/16, n=400 subsample, 4.9% +/- sampling error
Greg Abbott 14%
Joe Barton 7%
Ted Cruz 3%
David Dewhurst 23%
Elizabeth Ames Jones 6%
Tom Leppert 3%
Ron Paul 21%
Michael Williams 3%
Roger Williams 1%
Someone else/Undecided 19%
1. As expected, Dewhurst already leads. His name ID is higher than everyone else's, as other parts of the poll make clear. The only two Republicans who primary voters from the entire state can identify are David Dewhurst and Ron Paul.
2. Doesn't look like Greg Abbott is running, especially since Ted Cruz is running.
3. 7% for Joe Barton? Folks who remember his 3rd place 93 Senate run + folks who have or have had him as Congressman? After the BP incident, I doubt he'll run. I considered listing him in my initial 2012 Senate list, but because of BP I decided not to.
4. Before the poll, South Steps predicted that Roger Williams would have "the lowest name ID despite campaigning [for two years]." That looks remarkably prescient.
5. My guess will be that 21% is Ron Paul's high water mark. Rand Paul got lucky in Kentucky to get a single establishment candidate he could run against. On the other hand, if Ron Paul can hold 21%, it's conceivable that enough candidates stay in the race that 21% makes the runoff.
6. Ted Cruz and Michael Williams tied at 3%? I think that's probably better news for Cruz than it is for Williams, who has actually been elected statewide a few times. All the same, the point is that neither has much name ID at the moment...which we already knew.
If even less meaningful Texas presidential primary numbers interest you, then here they are with and without Perry.
Mitch Daniels 3%
Newt Gingrich 17%
Mike Huckabee 24%
Sarah Palin 17%
Ron Paul 10%
Tim Pawlenty 4%
Rick Perry 9%
Mitt Romney 10%
Someone else/Undecided 5%
Mitch Daniels 3%
Newt Gingrich 17%
Mike Huckabee 25%
Sarah Palin 21%
Ron Paul 9%
Tim Pawlenty 5%
Mitt Romney 10%
Someone else/Undecided 8%
Posted by Evan @ 01/20/11 10:20 AM | Comments (0) &nbsp &nbsp &nbsp &nbsp
&nbsp
---
19 January 2011
As Texas goes, so goes the nation.
"Where Texas goes today, the rest of the nation goes tomorrow."
Posted by Evan @ 01/19/11 07:36 PM | Comments (0) &nbsp &nbsp &nbsp &nbsp
&nbsp
---
Ted Cruz announces for Senate
UPDATE: Ted Cruz for Senate
In a day when Michael Williams is expected to officially announce his resignation from the Railroad Commission, Ted Cruz announced his run for the Senate by way of a conference call for bloggers this morning.
I have to admit, my initial reaction was: outreach for bloggers before press release? But why not, at this point the race is largely about winning the subprimaries. Raising money and getting endorsements. Press releases don't help much with that.
Update: Press release below the jump.
Posted by Evan @ 01/19/11 09:57 AM | Comments (0) &nbsp &nbsp &nbsp &nbsp
&nbsp
---
18 January 2011
PPP polls Texas Senate 2012
PPP polled the 2012 Texas Senate race this week. Jan 14th to 16th, 892 voters, 3.3% +/- sampling error
David Dewhurst 50
Chet Edwards 31
David Dewhurst 49
John Sharp 31
Julian Castro 25
David Dewhurst 53
Elizabeth Ames Jones 44
Chet Edwards 31
Elizabeth Ames Jones 44
John Sharp 30
Elizabeth Ames Jones 48
Julian Castro 27
Tom Leppert 46
Chet Edwards 30
Tom Leppert 42
John Sharp 30
Tom Leppert 48
Julian Castro 25
Michael Williams 42
Chet Edwards 31
Michael Williams 42
John Sharp 30
Michael Williams 45
Castro 26
[thoughts being added below]
Can't read too much into this poll except as confirmation of what we were already quite confident of: it will be a very difficult race for Democrats. Whoever wins the GOP primary is extremely likely to be the next Senator from Texas.
It's not terribly shocking that none of these candidates, on either side of the aisle, are terribly well known. Texas is so big that it is extremely difficult to have name ID. That's a big warning to members of the US House of Representatives or of the Texas Legislature. Of the seven people tested, six of those folks have unknowns over 50%! Even after 8 years as Lt Guv, Dewhurst is at 38% not sure whether they have a favorable or unfavorable opinion.
Julian Castro polls at 7% favorable, 28% unfavorable and 65% unknown. If you thought I was harsh questioning whether he deserves the nickname boy wonder. . . perhaps he will deserve it in the future, but he doesn't yet.
So here are my takeaways from this poll:

1. Right now, this seat in the safe GOP camp, barring Texas Republicans deciding to nominate Christine O'Donnell.

2. Name ID, Name ID, Name ID

3. PPP put Julian Castro on the ballot to test how an unknown Latino Dems tests vis a vis Anglo Dem. Anglo Dem polls better. Wouldn't put too much stock in this particular result, but I wouldn't put much stock in the Dem gameplan (nominate someone with a Spanish last name and we win!) of the last decade either.
Posted by Evan @ 01/18/11 03:09 PM | Comments (1) &nbsp &nbsp &nbsp &nbsp
&nbsp
---
17 January 2011
On sugar daddies
Right Side of Austin writes:
During the Texas Republican Governor's primary two anonymous political blogs were the toast of the capitol crowd, Rick vs Kay and Rick Perry vs The World.

Any guesses on who the anonymous bloggers are and the sugar daddies they are supporting?
I was going to let my wife respond to tell you exactly how much money this blog makes, but she's out shopping at NeimanMarcus with the credit cards of all those sugar daddies that support this blog.
Posted by Evan @ 01/17/11 06:26 PM | Comments (2) &nbsp &nbsp &nbsp &nbsp
&nbsp
---
HW endorses Roger Williams
George HW Bush endorses Roger Williams.
I infer that George P. Bush is unlikely to be running.
Posted by Evan @ 01/17/11 01:17 PM | Comments (0) &nbsp &nbsp &nbsp &nbsp
&nbsp
---
15 January 2011
Things I've heard about the TX Senate race I don't agree with, part 2
The Chron/SAEN's Richard Dunham:

San Antonio Mayor Julian Castro (D)
Strengths: The boy wonder of Texas politics. Very popular officeholder.
Boy wonder of Texas politics? More than a sycophantic NYTMag article should be required for that title. For starters, how about winning an election he isn't expected to win?
Former Texas Solicitor General Ted Cruz (R)
Strengths: A prominent Latino conservative with a track record on legal issues. A compelling personal story
Weaknesses: Has focused on potential Attorney General race in the past. Ivy League background cuts both ways in a Republican primary.
Mr. Dunham doesn't appear to have a very good understanding of who the Republican primary electorate actually is. I might think there's a certain character flaw in choosing Princeton over Rice, but where are the votes in the GOP primary? In the suburbs. Voters who wouldn't mind if their own kids went to Princeton. Having a degree from the Ivy League (or Rice, for that matter) only hurts if a candidate seems like a RINO or thinks he is better than someone else just because of the degree.
I'm pretty sure Charlie Howard has never been hurt politically by the line that says Harvard on his resume.
Former Waco Rep. Chet Edwards (D)
Strengths: Moderate record. Strong support among veterans, business groups. Close to President Obama personally.
Being close to President Obama is a strength? In Texas? What?
Posted by Evan @ 01/15/11 04:45 PM | Comments (0) &nbsp &nbsp &nbsp &nbsp
&nbsp
---
The first informal straw poll
Rick Perry alumni staffers are gathering in Austin today. You've got to think there will be tons of talk about who runs and who to support in the race to replace KBH. Without taking an actual vote, it's something of a first informal straw poll.
Posted by Evan @ 01/15/11 02:30 PM | Comments (0) &nbsp &nbsp &nbsp &nbsp
&nbsp
---
Things I've heard about the TX Senate race I don't agree with
MSNBC's First Read:
"If Dewhurst gets in, I think he clears the field," the Cook Political Report's Jennifer Duffy tells First Read.
I think Ms. Duffy might want to get out of the Beltway a bit more.
The chances that Dewhurst clears the field are minimal.
Posted by Evan @ 01/15/11 02:24 PM | Comments (0) &nbsp &nbsp &nbsp &nbsp
&nbsp
---
14 January 2011
Chart of RNC Chair Voting Results by Round
Here is a chart I made of the RNC Chair Voting Results by round. Congratulations to Chairman Priebus.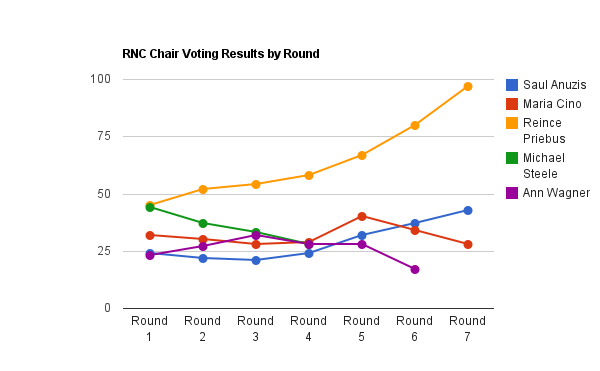 Michael Steele dropped out after Round 4 and Ann Wagner dropped out after Round 6.
Click for a slightly larger version: RNC Voting Results by Round
Posted by Evan @ 01/14/11 04:34 PM | Comments (0) &nbsp &nbsp &nbsp &nbsp
&nbsp
---
Florence Shapiro says she's out for Senate
David Catanese at Politico has Senator Florence Shapiro's statement that she'll stay in the Texas Senate. He was also kind enough to note that I called it correctly in my Texas Senate handicapping post that Shapiro was "more likely than not stay in the Senate."
Posted by Evan @ 01/14/11 01:59 PM | Comments (1) &nbsp &nbsp &nbsp &nbsp
&nbsp
---
13 January 2011
Handicapping the 2012 GOP Senate Primary
It is hard to underestimate what an upheaval Senator Hutchison has created by announcing so early that she won't run for re-election. Texas is a huge state with a long ballot of statewide offices. There's a huge pool of potential candidates all waiting for the logjam to break...and they've been waiting impatiently for several years now. Because of that, I think we are likely to see lots of people explore the race, and quite a few eventually file in a year and officially run. Here's how I break it down.
Self-funders
David Dewhurst -- Conventional wisdom says he is the favorite. He's the lieutenant governor, he has name ID, and he has the personal fortune to self-fund. If he hadn't hesitated in 2002, he'd likely have replaced Phil Gramm in the Senate and John Cornyn would occupy this spot instead. He just ran for re-election in 2010, so he doesn't have to give up his seat to run in 2012.
Roger Williams -- former Perry appointee to Secretary of State. He made his money from the family car dealerships in DFW, and he's been a long-time Republican fundraiser. He's been running for the seat for the last couple years, sending me emails at every major and minor holiday. I find it very strange that a Fort Worth candidate has a website featuring the Houston skyline. I can pick out my former office on it though, which is nice. This quote from a David Catanese Politico story didn't strike me as exactly on-message if he's planning on running as the conservative that his emails say:

Sen. Hutchison's done a fantastic job for Texas. We share a lot of the same supporters, and I think now that people know the direction she's going to take, I think they'll be getting on the Roger Williams team.
Railroad Commissioners
Michael Williams -- If KBH had resigned her seat, there's little doubt that Michael Williams would have been the movement conservative pick. Williams once even had George W. Bush as his campaign manager back in a West Texas race. Good choice on his part, because Bush later appointed him to the Railroad Commish, where he's served for the last 12 years or so. As the only African-American bow-tie wearing candidate, he stands out in a crowded field. However, Paul Burka reports that "Williams is probably out of the race, since he is seeking to become the single commissioner of the revamped Railroad Commission, if the legislation calling for a single commissioner is passed." I find this a little bit hard to believe, however Williams would be the obvious pick of the three current commissioners if the commission is eliminated to a single commissioner.
Elizabeth Ames Jones -- Jones' seat on the Railroad Commission is up for re-election. Is she really going to give up her seat to run in a campaign where many people don't think she'd make the runoff? Refer back to Michael Williams -- if the other two Railroad Commissioners get eliminated, Jones would have the motivation to run. Unlike the other prospective candidates, she's from San Antonio. Her former Alamo Heights TX House seat is now held by Joe Straus -- she should be able to raise a fair amount of money out of that area.
Other statewide officeholders
Greg Abbott -- He isn't getting talked about as much so far because he had planned on moving up to Lt Guv if KBH resigned. Most of what has been written is left over from the prospective race that would have taken place if KBH resigned and there had been a special election. However, like the other statewides aside from Jones, he was just recently re-elected. He will remain Attorney General even if he runs and loses, and he could easily become the movement conservative choice, especially if Michael Williams and/or Ted Cruz don't run.
Congressmen
Most of these haven't been talked about before, because, like Greg Abbott, most of what has been written is left over from the prospective race that would have taken place if KBH resigned and there had been a special election. Still, while Reps don't have a great track record running for the Senate in Texas, you almost think one or two will be tempted to give it a shot. Here are the ones who seem most likely to me:
Ron Paul -- Will he run for president, his House seat, or the Senate? He's done all of them before, losing the 84 Senate GOP primary to Phil Gramm. Paul likes having a platform to propound his brand of libertarianism, but he may decide to let former NM Guv Gary Johnson carry his torch in the presidential race, and instead run for Senate like his son Rand in Kentucky. He will have no problem raising millions. He will get a significant chunk of the vote if he runs, though he has a definite ceiling. If the field is very multi-way and no one stands out, then he might squeak into a runoff. However he'd be very unlikely to win that runoff. I think he probably won't run, but I think few people are good at predicting what Dr. Paul will do.
Mike McCaul -- Most people think he can self-fund, and as the son-in-law of Clear Channel founder Lowry Mays, fundraising shouldn't be an issue either. Still, he has no name ID statewide. Does he really enter what might be a huge field when -- pending redistricting -- he should have a safe seat and is finally back in the majority? I wouldn't be surprised if he ran, but I think on balance he is more likely not to.
Pete Sessions -- He ran to be NRCC chairman again. You can't do that and run for Senate. I think he might have run if he wasn't head of the NRCC, but I imagine he'll think better of it.
Jeb Hensarling -- Maybe the most likely to run of the House members. I bet he'll at least test the waters. He's well-regarded. But I think Texas is now too large for a House member to win this primary.
State Senators
Florence Shapiro and Dan Patrick. They'd have to give up their seat in the state Senate to make the race. Shapiro comes from the vote-rich DFW suburbs in Plano, while Patrick comes from the vote-rich west Houston suburbs. Both have a certain potential niche -- Shapiro as a woman candidate (depending on if Jones runs) and Dan Patrick from his talk radio station in Houston. My guess is that both are more likely than not to stay in the Senate and hope that statewide seats open up after the Senate seat is decided.
Others
Dallas Mayor Tom Leppert -- Big city mayors have not done well historically in Texas. Getting elected mayor of Dallas at the same time Dallas County was turning blue speaks to his political skills. As a former CEO, he had the support of much of the Dallas business elite when he was elected mayor. He and Roger Williams will share a very similar profile: DFW businessmen with very little name ID who should be able to raise significant money.
Ted Cruz -- He has generated lots of buzz from touring the state as a prospective AG candidate. While he didn't get to run when KBH didn't run, he may have put the foundation in place to run for this seat. He's young, and his only experience is as Abbott's deputy as Solicitor General. However, he argued and won a number of difficult Supreme Court cases. If I had to choose, I think he's probably the best speaker of the potential candidates. He raised a million bucks for an AG run even though the seat was never even officially open. As I tweeted earlier today, I think Cruz's ability to win might be the least understood/underrated factor in this race. On the other hand, he might decide not to run. Who knows?
Debra Medina -- yes, she got 18.5% of the recent Perry v KBH primary, and she might have a niche as a libertarian if Ron Paul doesn't run that would give her a guaranteed X percent of the vote...however, her ceiling would also be about X% of the vote. And X is a fraction of 18.5%.
Out of nowhere
I wouldn't be surprised if someone else ran who isn't on this already extremely long list. While I've been writing this blog I can recall rumors of statewide office runs for all sorts of folks from Matt Dowd to Don Evans to Karen Hughes. I'd be very surprised if any of those specific folks ran, but I think we will see some trial balloons -- at the very least -- from prospective candidates who aren't on this list.
Overall:
So how do you handicap that when we're about a year from just the filing deadline? Not really sure you can. The more candidates there are, the more uncertainty, and this is likely to be a large field. Many of these candidates are going to test the waters through fundraising and trial balloons and giving speeches at Lincoln Day dinners, so over the next year the field should thin considerably. Even so, I expect quite a few serious contenders.
Dewhurst is probably the one prospective candidate that doesn't need to worry as much about who else runs. He'll plan to blanket the airwaves and use his frontrunner status. He's quite likely to make a runoff, though there is some danger for him. Lots of people like him, but I'm not sure any particular niche loves him. He had a moderate reputation heading the state Senate early on in his tenure as Lt Guv, but lately he's tacked more back to the right. His chances of taking the seat are probably largest if it's a large field where candidates are too busy attacking each other to attack him so that he emerges unscathed into the runoff. At the same time, as I said before, KBH's early announcement is not helpful to him as it reduces his self-funding advantage and gives the field time to sort itself out.
If you made me pick right now, I'd say that we'll see at least 4-5 serious candidates, and that there will be a runoff. If forced, my guess would be that a runoff happens between Dewhurst v. Greg Abbott / Ted Cruz / Michael Williams (written alphabetically).
Roger Williams' worst nightmare had to be Tom Leppert deciding to run. As far as I can tell, their bases overlap to such an extent that neither can make the runoff. Jones has a niche as being both the only female candidate and the only San Antonian, but I don't think those will get her into a runoff. I'm skeptical that the state senators will run, and that the Congressman can win if they do.
So, will it be Abbott, Cruz or Michael Williams? Very difficult to say. All of them will probably be looking into it. I'd be shocked if none of them ran, and wouldn't be surprised if they all did. As I said, Cruz used to work for Abbott as well, so that might be a factor in who runs. As he's never completed a campaign, Ted Cruz is less of a known quantity, meaning that he probably has both a higher upside and a greater potential to crash and burn than either Michael Williams or Greg Abbott. Williams is the safest bet to run, Abbott is probably the most likely not to run, and Cruz the one most likely to really catch fire if he runs.
UPDATE: The TexasTribune had Craig James and George P. Bush on their list. I didn't think of "P," but I'd be surprised if he ran. As for Craig James, I'd be really surprised if he were able to get traction. How many SMU or Texas Tech fans are going to vote for him?
Posted by Evan @ 01/13/11 11:15 PM | Comments (0) &nbsp &nbsp &nbsp &nbsp
&nbsp
---
Kay Bailey Hutchison isn't running for Senate...will she be the only one not to?
Kay Bailey Hutchison has announced that she will not run for re-election. She's been a solid Senator. I believe her when she says she's not running, but then I believed the last 10 KBH announcements too, so...
This should be a fun scramble. Conventional wisdom puts Dewhurst as the favorite, but I'm not sure I agree with that. It probably doesn't help him that Senator Hutchison announced that she wouldn't run at the very beginning of the legislative session. Not only does that complicate his session, but it means everyone else can start fundraising now, thus reducing his self-funding advantage.
Elizabeth Ames Jones, Roger Williams, Michael Williams, Dan Patrick, Florence Shapiro, Tom Leppert and Ted Cruz are the names I've heard right out of the gate. Most of them will run. Interestingly, none of those names are in Congress, and I bet at least one Rep will decide to jump in before it is all over.
I have some favorites and some not-favorites, but I'll wait to see who runs before I decide who to support.
As for Democrats, I believe Bill White when he said no a month ago. He doesn't seem like the kind of guy who would change his mind. I guess that leaves John Sharp, who would start as a pretty big underdog against any of the prospective candidates, especially with Obama leading the ticket.
Posted by Evan @ 01/13/11 04:19 PM | Comments (0) &nbsp &nbsp &nbsp &nbsp
&nbsp
---
11 January 2011
Where is Billy Clyde?
Whenever the legislature is back in session, I wonder whether Billy Clyde will turn up again.
Posted by Evan @ 01/11/11 09:11 PM | Comments (0) &nbsp &nbsp &nbsp &nbsp
&nbsp
---
Straus elected speaker
Not really shocking to see Straus elected as the Speaker of the House.
What will be interesting is to see if the outside groups really give a 50% weighting to the vote for speaker on their scorecards. That just doesn't seem defensible. And what do they give Jason Isaac for voting present?
Posted by Evan @ 01/11/11 09:10 PM | Comments (0) &nbsp &nbsp &nbsp &nbsp
&nbsp
---
07 January 2011
Palin: I'll be Marco Rubio's biggest supporter if he runs for president
Just wanted to highlight a post over at Draft Marco Rubio on Sarah Palin saying she will be Rubio's biggest supporter if he runs for president.
Posted by Evan @ 01/07/11 02:00 PM | Comments (0) &nbsp &nbsp &nbsp &nbsp
&nbsp
---
Presidential probablities
Mike Allen put this in playbook this morning:

PRESIDENT OBAMA's chance of being reelected: 75%

MITT ROMNEY's chance of being the GOP nominee: 20%

JON HUNTSMAN's chance of being the GOP nominee: 15%
I'm pretty sure I said publicly before and after the election that most people were underrating Obama's re-election chances, but 75%? That is puzzling. Intrade has Obama at about 58-59% likelihood of winning re-election, which seems about right, if a few points on the low side. The key factors are 1) economic numbers and 2) quality of Republican nominee.
Meanwhile Romney's chances are probably understated a little bit, whereas I don't even think Huntsman has a 5% chance of being president. 15% is quite high.
Incidentally, Intrade has Marco Rubio with only a 2% chance of even running for president. You've got to take illiquid contracts with a huge grain of salt, and given that Rubio didn't rule out running for president two days ago, I'd say his chances of running are higher than 2%.
Posted by Evan @ 01/07/11 12:51 PM | Comments (0) &nbsp &nbsp &nbsp &nbsp
&nbsp
---
Interpreting 2010 for 2012
For the short-view, check out Ronald Brownstein in the National Journal. Very good piece, although focusing so heavily on Colorado is misleading, because rich liberal activists invested millions in interest groups and news-ish organizations (to use Cory Crow's term) in Colorado as a crucible for political spending in the rest of the nation.
To get a fuller picture of how to interpret Brownstein's sliced and diced exit polls, check out Henry Olsen's excellent piece After the Wave in National Affairs.
Posted by Evan @ 01/07/11 12:39 PM | Comments (0) &nbsp &nbsp &nbsp &nbsp
&nbsp
---
06 January 2011
South Steps chimes in on Straus and the gain in seats
Apropos of my post earlier today, South Steps agrees:

Consider what Straus did for the freshmen who won a Dem seat: $0 in donations to any candidate who was challenging an incumbent Democrat. His PACs ranked 32nd and 46th in fundraising for Texas in 2010 (pathetic) and disbursed about $2.2 million. $1.5 million went to his officeholder account, and $0 went to a Republican challenger. **Disclaimer: double-check these numbers.

I would credit at least 25 organizations and far more individuals with helping build this majority more than Straus, arguably the second most powerful Republican in Texas, has.

------

Again, let me make clear that I do not care who wins speaker this session. I expect Straus to win, and I take him at his word when he promises better committee leadership.
I find it hard to judge whether I should care. Straus looks pretty likely to win. Most anti-Straus activism seems more noisy than effective. I wasn't terribly happy with the way Straus became speaker (on the other hand, from his perspective, "why not, if they're going to pick someone, why not me?"), but so far most of the anti-Straus groups seem more concerned with how he became speaker than in what he will do this session. Maybe they're right. Maybe they're not. I think the members themselves are likely to be a much better judge of what kind of speaker Joe Straus will be this session, and it looks like most Republicans are willing to give Straus another session.
Personally, I wish the more people would focus on procedural changes to Texas government that will still benefit us in a generation. It triggers less hot-button emotions, but it is substantive.
Posted by Evan @ 01/06/11 12:01 AM | Comments (1) &nbsp &nbsp &nbsp &nbsp
&nbsp
---
05 January 2011
Red McCombs bought the Inaugural bbq
Things I didn't know, from the Statesman:
The San Antonio businessman and philanthropist has bought enough meat and sides to feed 10,000 people at the barbecue being held at the Capitol after the Jan. 18 inauguration of Gov. Rick Perry and Lt. Gov. David Dewhurst.

The meal tickets were originally priced at $8 apiece, but the billionaire wanted to pickup the tab, he said in a news release.
More Inaugural info.
Posted by Evan @ 01/05/11 09:25 PM | Comments (0) &nbsp &nbsp &nbsp &nbsp
&nbsp
---
Straus, Craddick, and the prevailing national winds
¿Me meto en la política de la votacíon para el "Speaker"? Suspiro...bueno.
David Jennings has been firmly defending Straus over at BigJolly Politics (a site to which, incidentally, I should link much more often) by pointing out that under Craddick, Republicans lost 12 seats while under Straus they gained 25 seats.
Not so fast, says EmpowerTexans:

In truth, the Texas GOP's down-ballot races fell victim to the '08 national Obama-wave, which brought out many new voters interested in voting for president and stuck on with the Democrats down-ballot. Texas, being one of several states that practices straight-ticket voting, allowed these voters to fill in a single bubble to vote for every Democrat on the ballot, including state and local candidates. These voters, plus distaste for the national GOP ticket, turned out to be a deadly combination for Republicans.

Fast forward to 2010 and the pendulum swung in the opposite direction. National distaste for the president and his party have sent voters flocking to the GOP, bringing their votes to state-wide GOP candidates as well.
I pretty much agree with that. It might be that Craddick engendered some negative coverage by the Austin press corps, and that Straus so far doesn't, but I think that effect is pretty marginal. It could've swung a few seats, or it could've swung zero.
But if he fails to score a point by saying +25, -12, in my judgment Big Jolly does score a point by pointing out that if it was a national election, then, "[that] makes their current argument that the November elections meant that Texans were crying out for a new speaker, um, shall we say…a bit strange?"
Agreed. Texans were largely voting against Barack Obama in November. And back in the primary, Straus wasn't an issue in many campaigns.
Reading any more into the election results is a mistake with regards to the race for the speakership.
Posted by Evan @ 01/05/11 03:27 PM | Comments (1) &nbsp &nbsp &nbsp &nbsp
&nbsp
---
Perry 2010 will be a model for GOP 2012
Has there been any candidate for office over the past two election cycles who dealt with the border and immigration as well as Rick Perry? Republicans running for president would be wise to look at Perry 2010 as a case study for 2012.
Posted by Evan @ 01/05/11 01:03 PM | Comments (1) &nbsp &nbsp &nbsp &nbsp
&nbsp
---
04 January 2011
Matt Angle speculates on redistricting
Matt Angle, the de facto head of the Texas Democrats (or as some like to put it, the head coach), did a Q&A on redistricting with Hotline On Call:

The Hotline: How do you think Republicans will go about drawing the map? Where will they put the districts?

Matt Angle: I think their starting place will be to try to hold their districts. And they'll do that by keeping the minority percentage the same, but putting in high-voting Anglo-Republicans. High turnout Republicans. What they did this time is they won because you had high turnout among Anglos who vote straight-ticket Republican.

And then they will draw a new Hispanic district in Dallas County and just say that that's a new Hispanic district. Because you can draw it there and not hurt any incumbent. Then they'll draw some kind of Hispanic district, or at least I'll call it a "Hispanic district" from Austin, South. But rather than leave the rest of Travis County for Rep. Lloyd Doggett (D), they'll break up Travis County into three or four pieces.

So Doggett will face a tough race. Either they'll get rid of him by putting him a Republican district or they'll make him run in a Hispanic district. Doggett's been elected in a Hispanic district before; maybe he can do it again. But it keeps Democrats from netting up seats. So then, in effect, what they will have done is created three new Republican districts.
Angle also said:

The real feud between DeLay and Martin wasn't about anything other than DeLay didn't like the fact that so many Democrats held marginal districts in Texas.
Martin Frost's 1991 gerrymander was quite successful. If Democrats had been successful in blocking redisticting in the last decade, the 2008 congressional delegation probably would have been 18 Democrats and 14 Republicans in a state that hasn't elected a single Democrat statewide in 15 years.
Posted by Evan @ 01/04/11 01:48 PM | Comments (0) &nbsp &nbsp &nbsp &nbsp
&nbsp
---
Help me get to 100 followers on Twitter
I'm at 98 followers on Twitter right now, so follow me if you are so inclined and help me get over the hump. Thanks.
Meanwhile, Draft Marco Rubio got about 125 new Twitter followers yesterday alone.
Posted by Evan @ 01/04/11 11:56 AM | Comments (0) &nbsp &nbsp &nbsp &nbsp
&nbsp
---
More Texas Inaugural Info
On the heels of yesterday's post on the inauguration, they announced the performers for the evening ball of the 2011 Inaugural: Clay Walker, Pat Green, Eli Young Band and special guest Bonnie Bishop. No Ted Nugent this time -- y'all remember what I'm talking about.
Tickets for the nightly portion are $75, available on the Inaugural site. Tickets are free for the BBQ at noon after the swearing-in, but you also need to reserve them online.
Texas Democrats have Robert Earl Keen. We've got Clay Walker, Pat Green, Eli Young and Bonnie Bishop? Fair trade.
Posted by Evan @ 01/04/11 11:50 AM | Comments (0) &nbsp &nbsp &nbsp &nbsp
&nbsp
---
03 January 2011
Perry picks McDonnell advisor for RGA
Perry announces RGA executive director:

Phil Cox, who ran Gov. Bob McDonnell's gubernatorial campaign in 2009 and remains one of his top advisers, has been named executive director of the Republican Governors Association.

Texas Gov. Rick Perry, the group's newly elected chairman, announced the appointment Monday.

Cox will remain executive director to McDonnell's political action committee, Opportunity Virginia. McDonnell serves as vice chairman of RGA. He also will continue to advise Virginia Republicans looking to take back control of the state Senate in this year's elections.
Somewhat interesting that he picked someone so closely linked to McDonnell.
Posted by Evan @ 01/03/11 04:31 PM | Comments (0) &nbsp &nbsp &nbsp &nbsp
&nbsp
---
New staffers for Perry
Perry is shaking up his staff:

Gov. Rick Perry has named Rob Johnson senior advisor and Jeff Boyd general counsel. He also named Brandy Marty director of Budget, Planning and Policy; Milton Rister director of Administration; and Sarah Floerke deputy legislative director and House liaison.
What struck me was that Johnson and Rister are both former Dewhurst guys.
Posted by Evan @ 01/03/11 04:29 PM | Comments (2) &nbsp &nbsp &nbsp &nbsp
&nbsp
---
Texas Inauguration Info
Rick Perry and David Dewhurst will be inaugurated on Tuesday January 18th at 11 in the morning on the South Steps of the Capitol.
Then there will be an "Inaugural BBQ" at 12:15 pm on the west side. If you still haven't had enough celebrating, there's an evening celebration at 7:30 at the Palmer Events Center.
Get your tickets at the Texas Inaugural site, where you can donate to the Wounded Warrior fund.
Update: Inaugural Celebration performers will be Clay Walker, Pat Green, Eli Young Band and Bonnie Bishop.
Posted by Evan @ 01/03/11 04:22 PM | Comments (0) &nbsp &nbsp &nbsp &nbsp
&nbsp
---
01 January 2011
New Year links
* The first Latina governor was sworn in today. Texas connection = not only was Susana Martinez born in El Paso, but Bob Perry gave almost half a million to her campaign.
* I enjoyed Cory Crow's Not-Quite-Predictions post.
* In a Politico story on Connie Mack IV's potential run for Senate:

Chief of staff Hans Klinger has served as a general consultant for the campaigns of Texas Gov. Rick Perry and U.S. Sens. Kay Bailey Hutchison and Saxby Chambliss.
I think most people reading that Politico story would have an overstated sense of Klinger's role in these campaigns.
* Ben Smith's story in Politico on the 1988 presidential campaign tome "What It Takes: The Way to the White House
" begins:

Before Richard Ben Cramer bought his old white farmhouse here in 1993, he called in "the best real estate guy that I know," and then-Delaware Sen. Joe Biden and his brother Jimmy drove down from Wilmington to have a look.

The Biden brothers approved, and Joe Biden "had a fabulous way for me to get it all repaired and fixed up and everything," Cramer recalled. "Joe sees no limits in houses."

Cramer hasn't made any of the improvements Biden suggested, but if that glimpse of Biden's obsession with real estate sounds vaguely familiar, it's because this is the Biden whose life -- and rundown Wilmington mansion -- Cramer introduced to the nation in his 1,049-page chronicle of the 1988 presidential campaign, "What It Takes: The Way to the White House." The book was the point of departure for every profile of the vice presidential nominee 20 years later. It even defined Biden to Biden. "So that's how people see me?" he marveled to Cramer and others after he read the book.
This amuses me because I first heard of What It Takes about a decade ago from one of Biden's kids. I guess that means the VP liked it.
Posted by Evan @ 01/01/11 03:05 PM | Comments (0) &nbsp &nbsp &nbsp &nbsp
&nbsp
---