31 October 2013
Houston mayoral elections comment
A strange paragraph from Robert Miller:

An analysis of the City of Houston vote by Kyle Johnston of Johnston Campaign estimates that through the first five days, the ethnic breakdown of those casting Houston ballots is African American 32%, Hispanic 12%, Asian 1%, and Other (Anglo) 55%. Mr. Johnston also finds that of the City of Houston voters, 61% have a Democratic primary history, 34% have a Republican primary history, and 5% have no primary history. This partisan breakdown provides further evidence that the time has passed when a candidate running as a Republican can be elected Mayor of Houston.
This is a strange paragraph on multiple levels.
First, partisan ties are much weaker in big city municipal elections so the right candidate can always win. How else would NYC go 2 decades without a Democratic mayor?* Houston's elections are non-partisan by law, but Houston is obviously a less Democrat-dominated city than Los Angeles. That didn't stop Dick Riordan. You could probably even point to Sam Katz in Philadelphia, who came very close in a much more difficult partisan environment than Houston. Of course finding the right candidate isn't so easy, and often good political talent doesn't work in political races (or it doesn't get hired because candidates are very poor at selecting consultants), which leads me to my second point.
You can't project a D vs R election when this is a Democrat vs Democrat election. There are no Republicans running for mayor. It's not surprising that Democrats are more motivated to turn out to vote in a battle between two Democrats. Ben Hall has occasionally tried to speak to Republicans, but he made the mistake of hiring John Weaver. Maybe Weaver is calling himself a Republican again these days (it's tough to keep track of his party and ideological switches) but he really hasn't run a good campaign that would motivate Republicans.
Third, when was this mythical time when Republicans could be elected mayor of Houston (in Miller's mind)? Are we going back to Jim McConn and counting him? In 2001, Orlando Sanchez ran a pretty good campaign against a weak, bumbling Lee Brown in the height of post-9/11 Republican turnout. He lost, despite some big GOP endorsements and robocalls in the finals days from Giuliani and George HW. To go back to my first point, he could have won the open seat in 2003, but rather inexplicably he didn't do the necessary work to win in a difficult environment.
* For purposes of this post, I'm going with the nominal truth that Mike Bloomberg isn't a Democrat.
Posted by Evan @ 10/31/13 11:28 PM | Comments (0) &nbsp &nbsp &nbsp &nbsp
&nbsp
---
21 October 2013
The Texas outside of 360
I consider myself to be as much a representative of a true Texan as anybody I know, but I have to confess to one shortcoming: I just don't get the gun culture, and I don't think I ever will. . . . I don't own a gun and have no plans to get one.
With all due respect to Paul, he grew up in Galveston, went to Rice and then has lived his entire adult life in Austin. He doesn't own a gun.
I doubt many people outside of Travis County consider Austinites who don't own guns to be "representative of a true Texan."
Posted by Evan @ 10/21/13 10:53 PM | Comments (1) &nbsp &nbsp &nbsp &nbsp
&nbsp
---
20 October 2013
Eltife and Geren want to decide who gets freedom of the press
I saw last week that AgendaWise is suing to be allowed to livestream the Texas legislature.
In July 2013, AgendaWise began respectfully requesting access to capitol server closets to install equipment that would enable live streaming of the legislature. AgendaWise made the requests after learning that other organizations had been given access to the closets for the same purpose. The group's letters went unanswered. After the four defendants were contacted by AgendaWise's General Counsel, State Senator Kevin Eltife and State Representative Charlie Geren responded in a joint letter denying AgendaWise access.

Time Warner Cable, Grande Communications, AT&T, and the Texas Tribune all currently have the capability to stream live unedited footage from the Capitol.
I get that Eltife and Geren are both moderates who battle against AgendaWise's conservative views during the session. But it is terrible policy to discriminate against more livestreaming of the legislature.
Government doesn't get to decide who gets freedom of the press. It's even worse when they discriminate against organizations solely because they have been criticized by them.
Posted by Evan @ 10/20/13 10:12 PM | Comments (0) &nbsp &nbsp &nbsp &nbsp
&nbsp
---
17 October 2013
Exactly why Leppert worked so hard and got so little traction
Tom Leppert shows why he garnered 13% of the vote:
Former Dallas Mayor Tom Leppert, a longtime CEO and one-time candidate for Senate, said it's even simpler.
"If you ran a business and stepped before the board on a big issue to say, 'I'm here to make a speech but don't have any solutions for the problem,' you wouldn't last long," Leppert said. "The people we have sent to Washington care far too much about giving speeches and too little about getting results."

"There is real concern that the Republican Party is not looking at solutions," Leppert said.
What a shocker that Texas Republicans didn't vote en masse for a guy who likes to echo Democratic talking points.
Posted by Evan @ 10/17/13 07:56 AM | Comments (0) &nbsp &nbsp &nbsp &nbsp
&nbsp
---
16 October 2013
Dewhurst's fundamental problem
David Dewhurst called for Obama's impeachment:
Lt. Gov. David Dewhurst called for President Barack Obama's impeachment during a Tarrant County Tea Party candidate forum, The Texas Observer reported first.

Dewhurst's spokesman confirmed to the Texas Tribune that the lieutenant governor said Congress should impeached the president for taking his role too far on issues like immigration and Obamacare, as well as mistakes following the 2012 terrorist attack on the U.S. Consulate in Benghazi, Libya.
Dewhurst's fundamental problem is that he spent his first 10 years in Austin trying to convince everyone that he was a moderate Republican. For the last year and a half, he's trying to convince people that he's really a conservative. It is doubtful that inflammatory rhetoric will outweigh 10 years of record.
Posted by Evan @ 10/16/13 06:33 PM | Comments (0) &nbsp &nbsp &nbsp &nbsp
&nbsp
---
13 October 2013
It would make good political theater
Ted Cruz won his battle with some leftist heckers, and while doing so made a pretty interesting offer:

Turning to the media sitting at the back of the ballroom at a Washington hotel, he made what appeared to be an impromptu offer to President Barack Obama.

"If he wants to get 100 of his most rabid political operatives in a room I'll answer their questions on television as long as he likes," he said. "In exchange, all I'd ask, Mr. President, is you take not 100 but 10 of the men and women in this room" and spend half an hour answering their questions.
I'd pay to see that.
Posted by Evan @ 10/13/13 09:25 PM | Comments (0) &nbsp &nbsp &nbsp &nbsp
&nbsp
---
10 October 2013
Trey Martinez Fischer is a phony
I think someone had mentioned this to me awhile back, but I had forgotten it. Watchdog.org on Trey Martinez Fischer:
Ferdinand Frank Fischer, III would be a great name for a Mexican monarchist trying to reclaim the crown of Emperor Maximilian, but it's a lousy name for an ambitious American politician from a Latino district of San Antonio.

That's why Fischer ditched it years ago, trying on a couple of monikers before building a name for himself as Trey Martinez Fischer, politician on the rise.

Before he ran for office, Fischer was reportedly known as Tracy Fischer.
Even better, Fischer breaks the law:
In March 2011, Fischer was all over the news arguing against a voter ID bill that Texas was about to pass. He even gave a deposition in the suit over that law, Texas v. Holder, which the U.S. Supreme Court ultimately decided in Texas' favor.

His story was that his own mother would be one of those poor people disenfranchised by a requirement to show a driver license when voting.

"My mother doesn't have one," was his exact quote. The media lapped it up, as actual examples of this sort of disenfranchised voter are nearly impossible to find.

During Fischer's deposition in the federal case, a lawyer for the state of Texas confronted Fischer with a current copy of his mother's driver license. It was valid when Fischer had given his press conference, and it had recently been renewed until 2017. Fischer had lied.

The Dallas Morning News was the only newspaper to accurately report the incident. The Houston Chronicle buried it, and presented it as some sort of misunderstanding.

Still, Fischer was adamant that the law would be a problem, and it may well be for him. If there is anyone genuinely invested in the principle that one shouldn't have to prove his identity, it's Fischer. In the days of slacker ID requirements, he registered to vote as Ferdinand Martinez Fischer, III.
Of course, it's also illegal to run for office using multiple pseudonyms, but that didn't stop "Trey Martinez Fischer."
Posted by Evan @ 10/10/13 09:58 PM | Comments (0) &nbsp &nbsp &nbsp &nbsp
&nbsp
---
06 October 2013
Will John Cornyn get a primary challenger?
There is a now a chance that John Cornyn is not a senator in 2015. While Ted Cruz led the fight against ObamaCare, John Cornyn was busy chatting up a Politico reporter. The level of disappointment and anger among opinion leaders in the conservative grassroots is off-the-charts.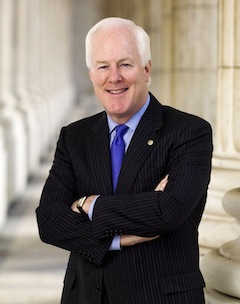 I don't mean to suggest that Cornyn is likely to be defeated. Far from it. There isn't an obvious challenger with credibility who could raise enough money. There aren't that many months left before primary day. But for the first time, it is a possibility.
John Cornyn is the consummate insider. Karl Rove picked him to take over Phil Gramm's seat, and then cleared the field of serious challengers. He carried the legislation that no one else wanted to during W's time in office. He headed the NRSC -- not very well, if we're being honest -- and used that as a springboard to leadership.
Cornyn won't be caught by surprise. He's hired FreedomWorks staffers for his campaign. He's sending out "John Cornyn: Conservative" bumper stickers with letters from George Strake. For awhile he was matching Cruz vote-for-vote in ways that were uncharacteristic for him (eg John Kerry's nomination to Foggy Bottom).
If you talk to conservative activists, there is a palpable level of anger over Cornyn's stance on ObamaCare. Even if it is just a tactical difference, Republicans want leaders who will stand and fight ObamaCare on every single field of battle. Cornyn didn't. And many have not forgotten how Cornyn voted for some of the bailouts like TARP.
Who could challenge John Cornyn?
Lawrence Person suggested Louie Gohmert, Mike McCaul and Don Willett to challenge Cornyn. Others have suggested Dewhurst, which is laughable since his record is to the left of Cornyn's. Gohmert and Willett seem unlikely to run.
McCaul has the money -- and voted against TARP -- but opted out of a 2012 run. Conventional wisdom would have said that the 2012 open seat is easier, so I rather doubt that he risks his US House seniority on the race. Here's a couple of names I've heard:
Jonathan Stickland. The freshman Texas House member wasted no time criticizing Cornyn for not fighting ObamaCare. He's from vote-rich DFW, has tea party connections, led conservatives in the last session, and is a great retail politician. He'd find it tough to raise the money, but to make this race you've got to have talent. He appears to have it.
Michael Quinn Sullivan. Who else has the same credibility with the grassroots that he does? He is known for being vocal about standing and fighting for conservative principles -- which is exactly the theme that any Cornyn challenger would have to play with note-for-note perfection. I have heard rumors of a Draft MQS campaign, although I remain skeptical that he would run.
George P Bush. Given that he's taken the extremely risk-averse step of running for land commissioner, it is unlikely that he would run. Still, he could raise the money and potentially run to Cornyn's right. I see zero chance of it happening, but if it did his chances as an early Ted Cruz endorser would be decent.
I've also heard rumors of leaders from various tea parties running. And unlike Erick Erickson's post on RedState, I do not think Rafael Cruz is going to run. Who knows -- maybe Steve Mostyn will decide to bankroll a Debra Medina run?*
We're still a long way from primary and runoff day. Some of the ire against Cornyn for his stance on defunding ObamaCare will dissipate by then. If anyone credible makes the race, they'll have to run a near-perfect campaign. They'll pick up the illegal immigration hardliners that have long been skeptical of Cornyn and people mad about how Cornyn supported TARP, but then they have to show why they'll be better at leading the fight against ObamaCare. That's not easy, but then again: nothing unites conservative, moderate and libertarian Republicans like fighting ObamaCare...and right now Cornyn is on the wrong side of the issue.


* Probably not, of course, because Mostyn stands to profit from passing bills in the legislature that allow him to make windfall profits. Not so much in the US Senate.
Posted by Evan @ 10/06/13 08:53 PM | Comments (1) &nbsp &nbsp &nbsp &nbsp
&nbsp
---
03 October 2013
Clearly a slow news day
Isn't it time that Democratic political consultants in Texas got a huge payday from Hollywood and San Fran liberals? #WendyDavisSlogans

— Evan PVW (@PerryVsWorld) October 4, 2013
W Davis hired non-Texans for the band at her campaign kickoff? Yikes #txgov

— Evan PVW (@PerryVsWorld) October 3, 2013
Si nos hiciéramos más como el estado fracasado de California, seríamos grandes. #WendyDavisSlogans

— Evan PVW (@PerryVsWorld) October 3, 2013
I represent the Democratic wing of the (California) Democratic Party #WendyDavisSlogans

— Evan PVW (@PerryVsWorld) October 3, 2013
W Davis realized she was going to lose to @konniburton so she figured she may as well run for #txgov to audition for MSNBC gig

— Evan PVW (@PerryVsWorld) October 4, 2013
Posted by Evan @ 10/03/13 08:31 PM | Comments (0) &nbsp &nbsp &nbsp &nbsp
&nbsp
---