25 September 2014
Thiel on Cruz
Peter Thiel has a new book out, and in part of his promo tour he gave an interview to Daily Caller where he talked about Ted Cruz:
"Well, I think he's very smart," Thiel said of Cruz, who is now the junior senator from Texas. "I think one of the challenges we have in the Republican Party is ... our representatives, our senators, are somewhat lower IQ than the people on the other side. So I think there is something to be said for getting some really smart people in there."
Some of Cruz's opponents in the 2012 primary tried to start a whisper campaign about Thiel's support. That failed.
Posted by Evan @ 09/25/14 12:01 AM | Comments (0) &nbsp &nbsp &nbsp &nbsp
&nbsp
---
24 September 2014
The Wendy Davis Meltdown
It sure looks like this was a planned gambit. But if so, she shouldn't have backed down. "I am paying for this microphone, Mr. Green" it was not. Talking over the moderator for so long only to back down hit just the worst mixture of petulance and weakness.
Just for reference, this is what a leader looks like:
Posted by Evan @ 09/24/14 10:37 AM | Comments (0) &nbsp &nbsp &nbsp &nbsp
&nbsp
---
08 September 2014
A tale of two Democratic ads
This is a pretty good ad. Watch it with the sound off. She's much better than when she gets obvious questions that she didn't prepare for. She believes what she's saying, she's got authentic anger in the spots where she should. It does a good job of arguing her version of the facts while portraying her as a centrist.
And it was cheap to produce, which is key as she has no money. [Aside: voters don't care about production values. Political consultants like expensive ads because they make more money from them and because they win meaningless Pollie awards.]
Contrast that with the Wendy Davis education ad which I saw while watching the NFL today
Van de Putte's ad has a certain credibility. This one doesn't. Blaming the AG for something the legislature passed. Making something up about 4 year olds that no one believes -- and especially not from Wendy Davis.
Everything about this ad said "standard campaign ad that voters tune out."
Maybe Wendy Davis should hire Van de Putte to run her campaign? I imagine she'd do better than Obama's man in Texas.
Posted by Evan @ 09/08/14 01:15 AM | Comments (0) &nbsp &nbsp &nbsp &nbsp
&nbsp
---
05 September 2014
When you're not even popular on your own ad
A Wendy Davis ad showed up on my Facebook feed tonight.


The great thing about Facebook from an advertiser's perspective is that you advertise on Facebook because you can target your prospective customers very carefully. So the fact that I was seeing the ad means they probably hadn't done a good job of spending the money of Wendy's California donors. But then I scrolled down. I was so surprised I had to take a screenshot: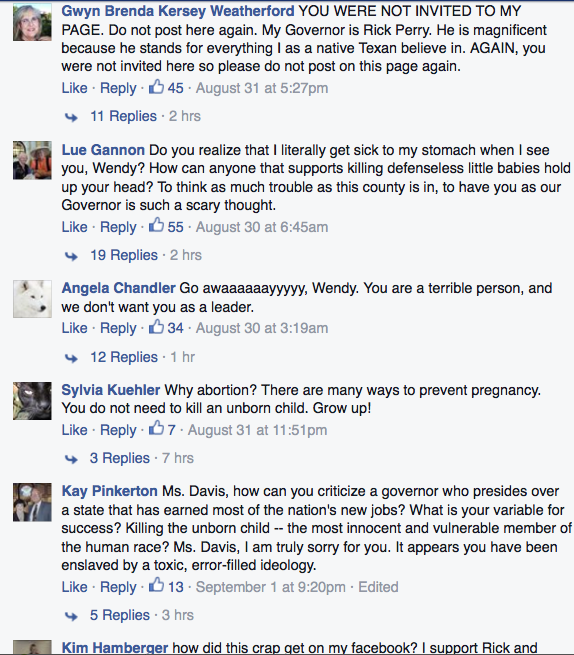 All the top comments are against Wendy on her own ad. Even after presumably trying to target swing voters, all the responses were negative. And those were some fired up responses.
Enthusiasm gap?
Posted by Evan @ 09/05/14 01:18 AM | Comments (0) &nbsp &nbsp &nbsp &nbsp
&nbsp
---
03 September 2014
When you start losing the alt-weekly crowd...
Jim Schutze of the Dallas Observer on Wallace Hall:

But what is to be said for the Texas press and its handling of the Wallace Hall story? Every major newspaper in the state has either called for Hall's head at one point or questioned his integrity, most of them basing their complaints on an allegation that Hall asked for too much information from the university -- in other words, that he did too much reporting.
Ouch. Fortunately Texas had one journalist who did the legwork to investigate. Schutze continues:
Eight months later in a triumph of virtuoso investigative reporting, Jon Cassidy, writing for Watchdog.org, an online news service sponsored by a conservative foundation, laid out the real back story of the law school admissions racket. Pitts had told the truth about one thing: It was standard practice.

In an ingenious use of public information laws and law school application procedures, Cassidy was able to expose an entire cadre of candidates admitted to UT law school in spite of startlingly low scores on the national Law School Admission Test (LSAT), many of whom graduated somehow, but, unlike almost anybody else at UT Law School, kept flunking their bar exams after they got out.

Of these, 15 of the names unearthed by Cassidy were of students directly linked to officeholders, either by blood, influence or money. Cassidy reported that a large number of ringers came from the district of state Senator Judith Zaffirini, former chair of the state higher education committee, including her son Carlos Manuel Zaffirini Jr. Many were connected to House Speaker Joe Straus.
I guess we know why Speaker Straus has been trying so hard to impeach Wallace Hall.
Posted by Evan @ 09/03/14 10:05 PM | Comments (0) &nbsp &nbsp &nbsp &nbsp
&nbsp
---
Deleting that tweet
That Rick Perry tweet and delete was canny.
He got us all talking about what he wanted us to talk about.
Posted by Evan @ 09/03/14 12:04 AM | Comments (0) &nbsp &nbsp &nbsp &nbsp
&nbsp
---