Rick Perry vs World
28 March 2015
Ted Cruz's DrudgeReport ad
Ted Cruz's ad on Drudge right now:
And the call to action second screen: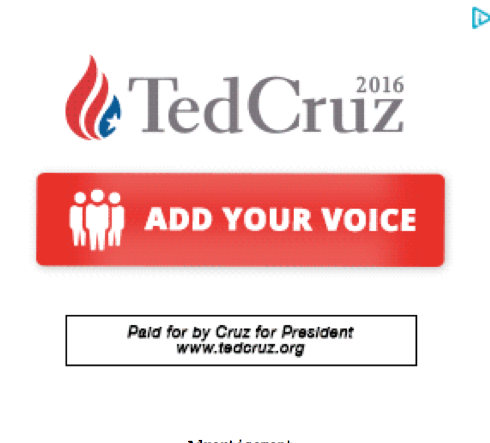 Posted by Evan @ 03/28/15 09:30 PM | Comments (0)

&nbsp &nbsp
Tweet
---
25 March 2015
Charles CW Cooke nails it:
You grew up in a quasi-monarchy; do you have any discomfort over the prospect of a Bush-Clinton election?
Extreme discomfort. To me, it's unseemly, and it is antithetical to American values.
Posted by Evan @ 03/25/15 11:41 PM | Comments (0)

&nbsp &nbsp
Tweet
---
08 January 2015
Jason Villalba's progressively thin skin
Dallas state rep Jason Villalba told an audience that Speaker Joe Straus would deliver a "progressive" agenda. That's pretty strange, since that's what liberals have been attempting to rebrand themselves for at least 15 years now. But yet, given a chance to correct a misstatement, Villalba reiterated, "I don't know why progressive is a bad word."
But then Straus was selected by Democrats (and a handful of liberal Republicans) to be speaker. Since then, Joe Straus has directed the Texas House like he owes his position to Democrats.
Apparently Jason Villalba wants to make sure Democrats know that Joe Straus is not going to abandon them, as he knew his remarks would get picked up by the press.
As long as Democrats remain 100% unified in their habitual pro-Straus bloc, then the Speaker is likely safe -- unless Republicans decide to stop letting Democrats pick Straus as speaker. Hence why I tweeted:
Wait, @JasonVillalba really said Straus was going to pursue a progressive agenda? Democrats should not pick the House speaker again #txlege

— Evan PvW (@PerryVsWorld) January 8, 2015
Less than 5 minutes after I tweeted that:
Jason Villalba blocked me. For a politician, Villalba has some very thin skin.
Posted by Evan @ 01/08/15 11:52 PM | Comments (0)

&nbsp &nbsp
Tweet
---
06 January 2015
El Payaso FFF (prefiere TMF) tiene algunas propagandas
Ferdinand Frank Fischer, also known by his alias "Trey Martinez Fischer" has some interesting ads up.
His English ad is awwwwkkkkwarrdd, but his Spanish ad is quite good. It reminds me of Van de Putte, whose ads were better in Spanish than English. Que torpe.
Every single bit of that ad where "TMF" talks looks fake. It's incredibly overacted by someone who felt really uncomfortable. The head bobbing, the voice oscillations in odd places, all of it. It's strange. They manage to get Bernal in as many shots as possible, even as he doesn't speak to the camera.
So his Spanish actually looks dubbed in to me as the lips don't match the audio on the Youtube video. But that's hard to notice. It's a good ad, and in his brief spoken bits, he's got a better accent than I thought he had (especially when dubbed in?). But even if they dubbed it in, his face actually looks like it might believe what his voice is saying. That's the opposite of the English video, where the words are totally discombobulated from the body movements. It's a pretty solid ad.
I am amused that he takes a shot at Republicans in both videos -- Dan Patrick by name in the English one, and just "Republicans" in the Spanish ad. Nunca deja ser inflamatorio, lo que sea no importa.
Posted by Evan @ 01/06/15 08:49 AM | Comments (0)

&nbsp &nbsp
Tweet
---
04 January 2015
Jeb Bush is definitely running for president
Jeb Bush is definitely running for president:

Former Florida governor Jeb Bush, moving closer to a possible presidential run, has resigned all of his corporate and nonprofit board memberships, including with his own education foundation, his office said late Wednesday night.

Bush's New Year's Eve disclosure, coming in an e-mail from an aide to The Washington Post, culminated a string of moves he has made in recent days to shed business interests that have enriched him since leaving office in 2007. The aide said the resignations had been made "effective today."
You don't give up millions of dollars and bury it with a NYE dump unless you're running for president. Especially if you're Jeb Bush, and you candidly spent the last 8 years or so talking about accumulating wealth.
Also, George P running for Land Commish instead of a higher office makes sense. If Jeb had been thinking that there was a good chance he'd run in 2016, he'd want to make sure there was absolutely zero chance of his son losing. [Wouldn't you make sure to fix the typo in your announcement though?]
I am completely against Jeb Bush for president. Our Republic deserves and requires better than Bush, Clinton, Bush, Obama, Clinton/Bush, particularly after Obama's disregard for the Constitution. It's not the sign of a healthy democracy.
Jeb's 2016 positioning is fascinating: it sometimes seems like he wants to run as Mitt Romney, Jr. However, he's running the flip campaign of Mitt. Romney had a pretty bad record as governor, but he tried to run in 08 as the movement conservative guy. Lots of intense wooing of conservative leaders. He got ahead of the curve really early with National Review.
By contrast, Jeb was a more conservative governor than either George W. Bush and Rick Perry, considering that he was in charge of Florida and not Texas. Graded on that curve, it's not even particularly close. However, while W found a way to unite all the different wings of the party, Jeb seems to be trying to irk as many conservative activists as possible.
So now we have four Texans running for president: Jeb Bush, Ted Cruz, Rand Paul, and Rick Perry. We'll see how many of them make it to Iowa caucuses.
Posted by Evan @ 01/04/15 10:49 PM | Comments (0)

&nbsp &nbsp
Tweet
---
16 December 2014
Jeb Bush announces exploratory committee with a typo
Today, Jeb Bush announced on Facebook that he was setting up an exploratory committee to run for president.
Over the past few weeks, his advisors (or perhaps the candidate himself) were telling reporters on background that they are going to run a savvy, digital-heavy campaign. Per the Washington Post:

Their thinking is that Bush, who was last on a ballot in 2002, would need to be aggressive and digitally savvy, challenging any impressions that he is an establishment moderate with sclerotic campaign skills.
Nothing says "digitally savvy" like having a typo in the third paragraph of your presidential announcement.
Yup. A whole lotof football.
That typo was up there for about 30 minutes. To their credit, they edited it within 5 minutes of me tweeting about it.
I'm no pedant; it's just a typo. But if you're running for president as a "digitally savvy" executive who is more competent than Obama, then you avoid typos in the 3rd paragraph of your announcement.
Posted by Evan @ 12/16/14 03:00 PM | Comments (0)

&nbsp &nbsp
Tweet
---
01 December 2014
Jose Menendez brings the stupid
WOIA:
A measure introduced in the Texas Legislature would affect the transactions you make with retailers, demanding that a business owner check a photo i.d. before accepting a debit or a credit card, Newsradio 1200 WOAI reports.

"Some stores already do this," State Rep Jose Menendez (D-San Antonio), the sponsor of the proposal, told Newsradio 1200 WOAI. "I think it would great, I don't think it would take that much longer, and I appreciate it when a store asks me for an i.d."
It is impressive how pro-regulation legislators manage to come up with inane regulations that would waste time while helping no one. Clearly Menendez knows absolutely nothing about credit card fraud, but he has no problem filing a bill to regulate it.
Unlike Menendez, I actually do know something about credit card fraud, having worked professionally at preventing it. Menendez's bill would do nothing to make anyone's finances or financial information more secure. (Hint: the consumer is not liable if someone steals a card and commits fraud.) And of course, it wouldn't help businesses with a POS terminal -- they already have the option to do it, and they already have a financial incentive to cut down on fraud.
The most pernicious credit card fraud these days is being done using skimmers or hacking the POS terminal. Since those would be exempted from Menendez's bill, if every state adopted Menendez's idea, we'd have even more places for fraudster to put skimmers. So fraud would likely go up.
Ideas have consequences.
Posted by Evan @ 12/01/14 11:20 PM | Comments (0)

&nbsp &nbsp
Tweet
---
30 November 2014
The Center of Ps thinks government creates prosperity
The liberal policy org Center for Many Ps has a Chron editorial arguing that Texas should never have a spending cap:
But only recently has the spending cap become an ideological football, with some hard-line conservatives trying to set an artificially low limit that starves school districts and stifles innovation
Got that? Limiting the growth in government spending stifles innovation. Yes, the major left-wing think tank in Texas believes that innovation comes from government. That makes perfect sense if you believe that prosperity is created by the government.
So of course you'd be against a spending cap. You just need to spend more. It's the California Model.
Posted by Evan @ 11/30/14 03:49 PM | Comments (0)

&nbsp &nbsp
Tweet
---
29 November 2014
Could Wendy Davis win back SD10?
Could Wendy Davis win back SD10? Nope.
Wendy Davis lost her home district by 7.5% to Greg Abbott a few weeks ago. According to my analysis of the Tarrant County precinct report, Davis earned 83451 votes compared to Greg Abbott's 96927 votes in SD10. That is a 53.74% to 46.26% defeat in the head-to-head vote.
A few points:
1. Wendy Davis now has the profile of a national liberal Democrat in SD10. In 2012, Wendy Davis won re-election against Mark Shelton. Even while Mitt Romney and Ted Cruz both picked up 53% in SD10, Davis obscured her liberal voting record enough to get 51.1% of the vote. Put differently, Wendy ran nearly 6 points ahead of Obama's 45.4% vote share in 2012.
Wendy now runs even with Obama in SD10. Romney beat Obama by about 8 points in the district. In 2014, Abbott beat Wendy Davis by about the same 8 points.
Obama and Battleground Texas intended use Wendy Davis to turn Texas blue. Instead Wendy Davis turned SD10 red.
2. Konni Burton outperformed Greg Abbott in SD10, winning with 54.2% of the head-to-head vote. Tell me which Austin lobbyist would've predicted that. She got a nasty hit piece put on her by the Texas Medical Association and got negative coverage from the Star-Telegram, but still ran half a point in front of Greg Abbott.
Looking precinct by precinct, Burton and Abbott performed quite similarly. Burton outperformed Abbott because she did slightly better in the highest turnout Republican precincts.
3. When you hire bad political consultants, it is very hard to win. Mark Shelton and Wendy Davis both hired political consultants (Bryan Eppstein and Jeremy Bird, respectively) who didn't know what they were doing. In the process of losing those races, both Eppstein and Bird showed themselves to be pretty bad at math.
Candidates who can't even hire good political consultants should not hold office.
Posted by Evan @ 11/29/14 02:02 PM | Comments (0)

&nbsp &nbsp
Tweet
---
28 November 2014
Only in government (or maybe higher education) could this level of inefficiency exist
"With deficits looming, team targets waste at City Hall" -- Mike Morris:
About a decade ago, someone paid for a permit with a counterfeit bill, leading [City of Houston] staff to launch a process that would devour 140 hours a month for the next decade: Recording each applicant's driver's license, along with the serial number on every single $100 and $50 bill.

Several counterfeit bills lost the city a few hundred dollars, Bounds noted; having employees invest 16,800 hours over 10 years hoping to prevent that loss cost taxpayers about $540,000 in salary and benefits.
Only in government would this 1) be implemented, and 2) kept around for years. Lack of competitive pressure in bureaucracy inevitably leads to waste.
Posted by Evan @ 11/28/14 06:15 PM | Comments (0)

&nbsp &nbsp
Tweet
---
[Previous 10 Entries]