Rick Perry vs World
26 October 2014
Van de Putte's alternate reality
Van de Putte sure can spin a reporter from the Washington Post:
"Quite frankly, statewide races in the past have been very complacent about consistently having a program in those Latino communities," said state Sen. Leticia Van de Putte, the Democrats' nominee for lieutenant governor. "We haven't had a race in two decades that has put resources into Latino communities. I am so proud of the strides we have made, but I wish there was so much more."
How quickly Ms. Van de Putte discards the tens of millions that Tony Sanchez put into Latino turnout. Tony Sanchez spent $76 million (over $100 million in 2014 dollars) in 2002. For months, you couldn't go through the east side of Houston without hearing a sound truck blaring messages in Spanish and English. Bill White didn't spend nearly as much, but I recall some Spanish ads that got some heavy airplay from very early in the campaign.
Also, wasn't the whole point of Battleground Texas to consistently have a program to sell liberalism in Latino communities? [Aside from being an enrichment program for Obama's campaign staffers.] Perhaps Texas Latinos just don't like the shoddy liberal product that Texas Democrats keep trying to sell them.
Posted by Evan @ 10/26/14 01:24 PM | Comments (0)

&nbsp &nbsp
Tweet
---
20 October 2014
Wendy Davis is a Karl Rove plant
Wendy Davis must be a Karl Rove plant.
Remember those days circa 2003-2005 when the left and the Beltway media establishment (but I repeat myself) credited Karl Rove with extraordinary powers? To hear them tell it, he was playing in a league of his own. Every time something bad happened to Dems, lefty bloggers immediately assumed that Karl Rove orchestrated it.
Wendy Davis's candidacy has been such a disaster for Texas Democrats that you wouldn't blame them if they started to come up with crazy theories like they did a decade ago.
1. Wendy Davis has sucked money out of competitive districts. I'm sure that Steve Mostyn was going to write a few eight figure checks anyway, but there's no doubt that some money that could have gone to competitive races instead came to Texas to fund Obama's fantasy about turning Texas blue.
Plus, in her best chance to make an impression on Texas after a series of disjointed ads, we got the Wendy Davis Meltdown. Such churlishness in a debate recalled a certain Al Gore. Remember: it's all Karl's plan.
2. Wendy Davis is the worst possible candidate imaginable to win Latino swing votes. A white liberal who got rich off of her elected office while gaining liberal notoriety as an abortion absolutist? This could only be the work of the Karl Rove that DailyKos bloggers imagined.
No doubt Davis will still get most of the Latinos who strongly identify as Democrats. But she certainly won't drive turnout from disaffected Democrats. Her primary loss in South Texas counties was historic. She couldn't even get Latinos to vote for her over a no-name in the primary.
In Hidalgo County -- 91% Latino -- Democrats are actually removing her from their advertisements for the Democratic slate!
3. The wheelchair ad sucked all the oxygen out of the room. You know who is angriest about the wheelchair ad? It should be Leticia Van de Putte, because it suffocated any potential chance she had of getting traction. Wendy Davis was already a lost cause, but perhaps with a stroke of genius, Van de Putte could've found the right combination to narrow the race to single digits.
Van de Putte is actually pretty good in front of the camera , when she isn't shamelessly pandering. With the right stroke of luck, maybe she could've grown an inkling of a chance into actual momentum.
Nope. Wendy Davis killed that. Or perhaps it was Karl.
Posted by Evan @ 10/20/14 10:02 PM | Comments (0)

&nbsp &nbsp
Tweet
---
18 October 2014
If you waste your money on bad political consultants, you deserve to lose
Nancy Sims has a couple of interesting posts up previewing the upcoming Houston mayoral race. They seem pretty accurate to me.
One post about the long-shot candidates caught my eye:
Ben Hall ran against Parker last election and is said to be considering another bite at the apple. We hope he hires different political professionals as he had one of the worst campaigns ever in 2013. He can finance the race though and would still be a contender if he decides to run.
John Weaver and Mark Sanders destroyed Ben Hall's chances to be mayor. It was so obvious that I predicted it beforehand. Hall went from main challenger to also-ran for this election cycle. When you hire a terrible consultant, not only do you waste tens of thousands of dollars, but you ruin your chance to run again.
The market for political consultants is terribly inefficient. First time candidates frequently have no expertise, and thus hire consultants who talk a big game but are terrible at campaigns.
Posted by Evan @ 10/18/14 02:30 PM | Comments (0)

&nbsp &nbsp
Tweet
---
09 October 2014
It's about time
Response rates to traditional telephone polls keep declining, and opt-in online polls are an inherently biased version of sampling public opinion.
If ballot race tests just went away, would the Republic immediately improve? Probably. [I'm sure Wendy Davis's Yankees agree!]
Microsoft is going to try to use sparse machine learning to replace phone polls:

His goal is to quicken the pace of culling answers and broaden the range of questions. For example, in a series of daily polls of users on Microsoft's XBox video game console, Rothschild was able to generate forecasts and models using the data and demographic information that closely mirrored the accuracy of poll aggregation.
At least if it proves successful, then I won't get my Twitter feed crowded with the "predictions" of someone who averages polls and then runs a Monte Carlo sim on top?
Posted by Evan @ 10/09/14 10:16 PM | Comments (0)

&nbsp &nbsp
Tweet
---
02 October 2014
Texas Lyceum poll loses all credibility
The Texas Lyceum poll just took a poll. It included a trial ballot for governor. See screenshot below.
Notice that their poll sampled more Democrats than Republicans. Perhaps they thought they were polling in California or in Wendy Davis's native Rhode Island?
Posted by Evan @ 10/02/14 11:21 AM | Comments (0)

&nbsp &nbsp
Tweet
---
25 September 2014
Thiel on Cruz
Peter Thiel has a new book out, and in part of his promo tour he gave an interview to Daily Caller where he talked about Ted Cruz:
"Well, I think he's very smart," Thiel said of Cruz, who is now the junior senator from Texas. "I think one of the challenges we have in the Republican Party is ... our representatives, our senators, are somewhat lower IQ than the people on the other side. So I think there is something to be said for getting some really smart people in there."
Some of Cruz's opponents in the 2012 primary tried to start a whisper campaign about Thiel's support. That failed.
Posted by Evan @ 09/25/14 12:01 AM | Comments (0)

&nbsp &nbsp
Tweet
---
24 September 2014
The Wendy Davis Meltdown
It sure looks like this was a planned gambit. But if so, she shouldn't have backed down. "I am paying for this microphone, Mr. Green" it was not. Talking over the moderator for so long only to back down hit just the worst mixture of petulance and weakness.
Just for reference, this is what a leader looks like:
Posted by Evan @ 09/24/14 10:37 AM | Comments (0)

&nbsp &nbsp
Tweet
---
08 September 2014
A tale of two Democratic ads
This is a pretty good ad. Watch it with the sound off. She's much better than when she gets obvious questions that she didn't prepare for. She believes what she's saying, she's got authentic anger in the spots where she should. It does a good job of arguing her version of the facts while portraying her as a centrist.
And it was cheap to produce, which is key as she has no money. [Aside: voters don't care about production values. Political consultants like expensive ads because they make more money from them and because they win meaningless Pollie awards.]
Contrast that with the Wendy Davis education ad which I saw while watching the NFL today
Van de Putte's ad has a certain credibility. This one doesn't. Blaming the AG for something the legislature passed. Making something up about 4 year olds that no one believes -- and especially not from Wendy Davis.
Everything about this ad said "standard campaign ad that voters tune out."
Maybe Wendy Davis should hire Van de Putte to run her campaign? I imagine she'd do better than Obama's man in Texas.
Posted by Evan @ 09/08/14 01:15 AM | Comments (0)

&nbsp &nbsp
Tweet
---
05 September 2014
When you're not even popular on your own ad
A Wendy Davis ad showed up on my Facebook feed tonight.


The great thing about Facebook from an advertiser's perspective is that you advertise on Facebook because you can target your prospective customers very carefully. So the fact that I was seeing the ad means they probably hadn't done a good job of spending the money of Wendy's California donors. But then I scrolled down. I was so surprised I had to take a screenshot: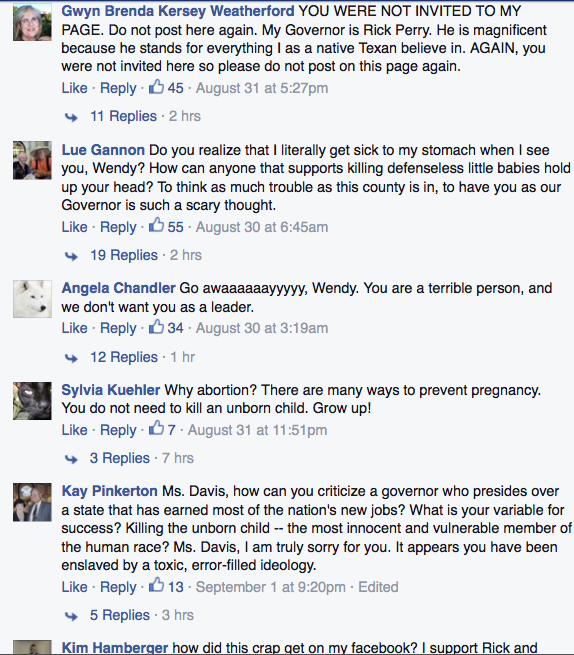 All the top comments are against Wendy on her own ad. Even after presumably trying to target swing voters, all the responses were negative. And those were some fired up responses.
Enthusiasm gap?
Posted by Evan @ 09/05/14 01:18 AM | Comments (0)

&nbsp &nbsp
Tweet
---
03 September 2014
When you start losing the alt-weekly crowd...
Jim Schutze of the Dallas Observer on Wallace Hall:

But what is to be said for the Texas press and its handling of the Wallace Hall story? Every major newspaper in the state has either called for Hall's head at one point or questioned his integrity, most of them basing their complaints on an allegation that Hall asked for too much information from the university -- in other words, that he did too much reporting.
Ouch. Fortunately Texas had one journalist who did the legwork to investigate. Schutze continues:
Eight months later in a triumph of virtuoso investigative reporting, Jon Cassidy, writing for Watchdog.org, an online news service sponsored by a conservative foundation, laid out the real back story of the law school admissions racket. Pitts had told the truth about one thing: It was standard practice.

In an ingenious use of public information laws and law school application procedures, Cassidy was able to expose an entire cadre of candidates admitted to UT law school in spite of startlingly low scores on the national Law School Admission Test (LSAT), many of whom graduated somehow, but, unlike almost anybody else at UT Law School, kept flunking their bar exams after they got out.

Of these, 15 of the names unearthed by Cassidy were of students directly linked to officeholders, either by blood, influence or money. Cassidy reported that a large number of ringers came from the district of state Senator Judith Zaffirini, former chair of the state higher education committee, including her son Carlos Manuel Zaffirini Jr. Many were connected to House Speaker Joe Straus.
I guess we know why Speaker Straus has been trying so hard to impeach Wallace Hall.
Posted by Evan @ 09/03/14 10:05 PM | Comments (0)

&nbsp &nbsp
Tweet
---
[Previous 10 Entries]
[Next 10 Entries]