Rick Perry vs World
26 September 2015
Minority party chooses the speaker
From a Politico story on Boehner's resignation as speaker:
The reality is that his critics inside his conference would have been hard pressed to ever remove him in this term as speaker. Democrats are reluctant to support any such effort since they don't want Republicans intruding on their own leadership fights in the future.
To those outside of Texas, it's unthinkable that a House minority party would be able to choose the speaker. Yet strangely that is the current equilibrium in the Texas House.
Posted by Evan @ 09/26/15 09:44 PM | Comments (0)

&nbsp &nbsp
Tweet
---
12 September 2015
Crow eating time: Perry first to drop out of the race
I was wrong. Politico's insiders were right. Perry has dropped out of the 2016 campaign.
OK, crow eating out of the way. My initial reaction:
If Perry was going to do this, then why did he get into the race at all? http://t.co/2J1inNqFh3

— Evan PvW (@PerryVsWorld) September 11, 2015
If you go back to the original post, I concluded:
So is Perry going to be the first to drop out? Dropping out comes down to the candidate's psyche -- but rationally, if you're Rick Perry then you stay the course through Iowa. Nothing has changed: may as well give Iowa a shot.
I added the bold and italics now.
As my tweet and prior post indicate, I argue that it is irrational to drop out now. There was never any chance that he was going to do well in the polls at this point. [In fact, I argued in May 2013 that it was "wishful thinking" for Perry to hope of success in 2016 without running for re-election in 2014.] I know it's easy to criticize from the sidelines, but everything up to now should have been expected as part of the campaign plan.
From the very start, his only shot at the nomination in 2016 was to come out of nowhere to win Iowa. Given recent Iowa caucus history, that's not as unreasonable as it sounds. Perry is very good at retail politics and his super PAC has $17 million in the bank -- Santorum won Iowa in 2012 with 24.5% and it might take even less this time.
Why run at all if you're going to quit the game before you even play the only card you've got?
Posted by Evan @ 09/12/15 12:19 AM | Comments (0)

&nbsp &nbsp
Tweet
---
06 September 2015
If I were Rick Perry
[I challenged myself to write a blog post in 8 minutes and edit in 30 seconds. Go!]
If I were Rick Perry:
If I were @GovernorPerry, my strategy would rest on being the polar opposite of Trump.

— Evan PvW (@PerryVsWorld) August 31, 2015
I think it's pretty obvious.
First of all, let's distinguish between strategies which are designed to get you a niche and those which might win you the nomination. For example, Donald Trump came out as the anti-free trade candidate and immediately occupied a niche that no one else was playing in. He immediately dominated that niche, which due to the divided field was good enough to be "#1."
Focus on difficult paths that might get you to 1600 Pennsylvania, not on easier paths that get you to double digits in the polls.
Second, Trump isn't going to be the nominee. Positioning yourself as the anti-Trump isn't a bad place to be.
Right now, Donald Trump is like Paris Hilton a decade ago. Put her name up as clickbait, and you'd get traffic. Right now in politics, talk Trump, get press coverage.
So go after it. Tear into Trump with the most Trumpian of insults: call him a socialist -- Trump would do it to you. And to use Trump's logic, it's entirely fair: he's had zillions of über-big government proposals over the years. Arguably Trump's record is as far left as Obama's or Hillary Clinton's. [To be fair, neither Obama nor Hillary has ever created a job, whereas at least Trump used his inherited wealth to create jobs]
Counterargument: Both Rick Perry and Rand Paul went after Trump and saw their poll numbers drop.
It's a dumb counterargument.
1. Extremely small sample size. Two brief salvos by different candidates? You can't control for the thousands of other variables. Small sample size arguments are quite popular in politics -- for decades journalists and pundits swore that you couldn't get elected president as a US Senator -- but it seems like a prep school kid from Hawaii with a funny name proved that one quite silly.
2. Find a messaging frame, be consistent, and stick to it. Do more than one speech. When you give a couple speeches and soundbites, you just desperate, so it's not surprising that your poll numbers go down. Plan a communications strategy, then commit to it.
3. Donors don't like Trump. Expose his liberal record and bring down his poll numbers? They like you more. You look presidential.
4. Most actual Republican primary voters have already decided they will never, ever vote for Trump. They're not liberals, after all. So you might carve yourself out a niche as the anti-Trump and immediately benefit.
Posted by Evan @ 09/06/15 04:24 PM | Comments (0)

&nbsp &nbsp
Tweet
---
27 August 2015
Ben Carson 2016? Only if you dislike oil and gas and love ethanol
Wandering around Galveston today, I saw a bunch of different Ben Carson 2016 bumper stickers. Perhaps just coincidence.
Do you think they know that Ben Carson echoes the anti-oil & gas talking points of liberals? Even worse, that he wants to take from oil and gas companies to subsidize ethanol production?
There's a reason why you study economics and public policy before you run for president.
Posted by Evan @ 08/27/15 10:31 PM | Comments (0)

&nbsp &nbsp
Tweet
---
18 August 2015
Insiders are wrong: Rick Perry won't be the first to drop out
It's been a long time since a real post.
I actually wrote a few real posts over the past months, but got distracted by the kids and never got around to hitting publish. Instead I'm going to do a quick combination of two of those posts "Rick Perry 2016: Quixotic" and "The financial constraint has been removed."
Politico's poll of insiders:
Forty percent of early-state Republicans and nearly half of early-state Democrats believe Rick Perry will be the first candidate to drop out of the presidential race.
This is in reaction to the news that Perry's campaign is essentially out of money and are no longer paying staffers.
Look, as the title of my unpublished post says, Rick Perry running for president in 2016 is quixotic. Perry 2016 always has been impossible: if you couldn't win in 2012 against the weakest field of candidates with the wind at your back, how are you going to win the White House in 2016 running against the strongest ever Republican field of candidates with the wind in your face?
It just ain't gonna happen. Never was. But per the title of the second post: there's no longer a financial constraint.
Though the Perry2016 campaign might be out of money, essentially nothing has changed in the strategy that might make him a contender. From the beginning, his one shot has been to go to Iowa and meet as many caucus participants as possible. Focus on farmers and veterans and hope you're under the radar enough that they don't target you for not supporting ethanol subsidies. Spend all your money in Iowa and see if you can make a go of it.
The financial constraint has always been what ended presidential campaigns. But with the rise of Super PACs, not only is it possible to make a real go of it in a few states, you also have the assurance that you can raise money if you can pull off a surprise and prove yourself viable.
The Super PAC has raised more than $15m, and shouldn't be burning any money right now, so they should have a solid $15m to fund campaign-like activities that don't cross the FEC's fancy legal line. So all the Perry presidential campaign has to do is really fund his travel expenses and maybe a bodyman. Given the email/direct mail lists and relationships he's accumulated over decades of running for office, covering those expenses should be easy. It's not much money.
So is Perry going to be the first to drop out? Dropping out comes down to the candidate's psyche -- but rationally, if you're Rick Perry then you stay the course through Iowa. Nothing has changed: may as well give Iowa a shot. It ain't gonna happen, but then again: a governor from Paint Creek wasn't gonna happen either.
UPDATE: Rick Perry was the first presidential candidate to quit the 2016 campaign.
Posted by Evan @ 08/18/15 12:09 AM | Comments (0)

&nbsp &nbsp
Tweet
---
27 July 2015
"Inside Rand Paul's downward spiral" http://t.co/rLe3uBfMQg It was obvious months ago when they hired (almost) all overrated consultants

— Evan PvW (@PerryVsWorld) July 28, 2015
It seems like many do not understand the concept of floors and ceilings.
Posted by Evan @ 07/27/15 06:16 PM | Comments (0)

&nbsp &nbsp
Tweet
---
29 June 2015
Having read the Cruz/Rove emails, it now makes sense why George W Bush wrote a check to Dan Branch for his AG race. #txlege

— Evan PvW (@PerryVsWorld) June 29, 2015
It hadn't made sense why GWB stayed out of campaigns, only to quietly -- very quietly -- write a check to Branch. But now it does.
Posted by Evan @ 06/29/15 10:19 PM | Comments (0)

&nbsp &nbsp
Tweet
---
11 May 2015
The other day I drove a few miles in west Harris County and counted 13 signs paid for by the county that had Steve Radack's name on them

— Evan PvW (@PerryVsWorld) May 12, 2015
If you drive Katy Hockley Cut Off Rd between 290 and 10, you will see Steve Radack's name on signs over and over and over again.
Posted by Evan @ 05/11/15 11:21 PM | Comments (0)

&nbsp &nbsp
Tweet
---
02 April 2015
Ted Cruz's DrudgeReport ad
Ted Cruz's ad on Drudge right now:
And the call to action second screen: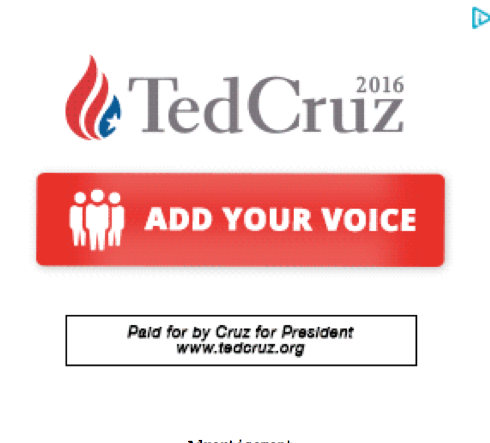 Posted by Evan @ 04/02/15 07:30 AM | Comments (0)

&nbsp &nbsp
Tweet
---
25 March 2015
Charles CW Cooke nails it:
You grew up in a quasi-monarchy; do you have any discomfort over the prospect of a Bush-Clinton election?
Extreme discomfort. To me, it's unseemly, and it is antithetical to American values.
Posted by Evan @ 03/25/15 11:41 PM | Comments (0)

&nbsp &nbsp
Tweet
---
[Previous 10 Entries]
[Next 10 Entries]