Rick Perry vs World
11 June 2014
Rick Perry will not be the VP nominee in 2016
Paul Burka has to win the award for Earliest Veepstakes Speculation. Put aside the fact that the Veepstakes is pretty silly in and of itself, speculating before we even know who is going to run for the nomination is particularly impressive.
Out of Rick Perry, Ted Cruz and Rand Paul, Governor Perry is by far the least likely to be picked as VP. I can't even see a scenario where Rick Perry even makes someone's shortlist.
If you look back at who gets picked to be the Republican VP nominee, you'll notice that it is very definitely not people who fit Rick Perry's profile.
2012: Rep. Paul Ryan
2008: Gov. Sarah Palin
2000: Sec. Dick Cheney
96: Rep. Jack Kemp
88: Sen. Dan Quayle
80: CIA director/ Rep. George HW Bush
76: Sen. Bob Dole
Notice how many of those were governors? Just one, and what is interesting about Sarah Palin is that she was purposely a high-risk pick -- John McCain's lackluster, ad-hoc campaign needed to throw a Hail Mary. She was undefined in national politics, but what little identity she had at that point was as a maverick. She'd been governor for just a year and a half in a small state several timezones removed from most of America's population.
While it isn't impossible that the VP pick is a governor, being the VP isn't really something that a governor is likely to be good at. If you look at the Democrats's VP picks, you'll see a very clear trend: senators. Biden, Edwards, Lieberman, Gore, Bentsen, Ferraro, Mondale. None of them governors, and it's worth noting that Rep. Geraldine Ferraro is the only non-Senator picked by the Dems -- another high-risk pick by a weak campaign looking for a Hail Mary.
In fact, if you were to look to history, John Cornyn fits the profile of a VP pick much better than Cruz, Paul, or Perry. Strangely, Burka didn't even mention him.
Posted by Evan @ 06/11/14 07:19 AM | Comments (2)

&nbsp &nbsp
Tweet
---
10 June 2014
Ted Cruz no longer eligible to be a Canadian
DMN :

Alberta-born Sen. Ted Cruz has given up his Canadian dual citizenship. The renunciation became official on May 14, roughly 9 months after he learned he wasn't only an American.

Cruz received notification by mail on Tuesday at his home in Houston.
In early 2011, staffers from an opposing #txsen campaign went to significant effort trying to anonymously make hay out of the fact that Cruz was born in Canada. There was even a blog for a bit of time to accompany the requisite rumormongering.
Nobody cared. Except maybe for the Dallas Morning News, who has been all over it.
Posted by Evan @ 06/10/14 08:45 PM | Comments (0)

&nbsp &nbsp
Tweet
---
09 June 2014
"We're tired of the 90s"
Yesterday's Politico Playbook led with snips from Hillary Clinton's book that are unintentionally hilarious:
--Chapter 1, "2008: Team of Rivals," p. 12-13: "Bill's cell phone rang. When he answered he heard the voice of the President-elect, who told him he wanted to talk to both of us. Bill explained that we were in the middle of a nature preserve and needed to call back when we got home. When we got back to our house .. [t]he President-elect picked [Bill's] brain about possible members of the economic team ... Then he told Bill that he was looking forward to getting together with me sometime soon."
1. Bill Clinton refuses to take Barack Obama's call just after he'd been elected president in 2008. Think about that. And it is self-evident he can't blame bad cell phone coverage.
2. Even in Hillary's own telling, Obama wasn't interested in her judgment of "possible members of the economic team." Of course Bill Clinton needs his ego stroked, but Obama could and should've at least pretended to care about Hillary's opinion. Nope.
Over the past year, as I've traveled around our country once again, the one question I'm asked more than any other is: Will I run for President in 2016? [SPOILER ALERT!] The answer is, I haven't decided yet. ... Having run for President before, I understand exactly how challenging it is on every front – not only on candidate but on their families as well.

"And having lost in 2008, I know that nothing is guaranteed, nothing can be taken for granted."
You know who says "nothing is guaranteed, nothing can be taken for granted?" In my experience, it is just about always from entitled people who feel like they should be able to take it for granted.
If you don't feel entitled to it, then you'd never say something like "nothing is guaranteed, nothing can be taken for granted."
Hillary's faux-indecision on running for president is silly.
Also, the title of this post is brought to you by the band Travis. Here is "Tied to the 90s":
Posted by Evan @ 06/09/14 11:42 PM | Comments (0)

&nbsp &nbsp
Tweet
---
04 June 2014
Making the Van de Putte face
Now we know why Leticia Van de Putte has a hard time answering easy questions.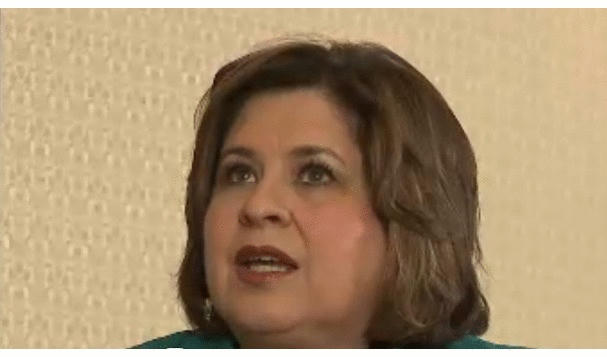 Because if Van de Putte doesn't make lots of funny faces over a 9 second awkward pause, then she shoots awkwardly from the hip (as awkward as Wendy Davis with a gun?).
And is Van de Putte awkward:

At one point she was talking about Austin insiders and said, "If you can't drink their liquor, if you can't eat their food, if you can't (blank) their women, and then have the balls to go out on the next day and vote against them; then you don't belong in the legislature."

Later in the same interview Van de Putte gave a sage assessment on love, saying, "It's kind of like men. The worse you treat them, the more they keep coming back. You know they just, they just can't get enough."
If a Republican had said that, the Texas media would talk about nothing else between now and November.
Posted by Evan @ 06/04/14 09:07 PM | Comments (0)

&nbsp &nbsp
Tweet
---
27 May 2014
Not the best trait in a politician
Dewhurst says against a "tsunami of unfair attacks" his @TeamDewhurst stayed positive and stuck with the truth. #TXLTGOV

— Tom Abrahams (@tomabrahams) May 28, 2014
I'm not sure if it's worse that Dewhurst believes his own false spin or that he keeps it up after the election is over.
He said the same thing in 2012 after losing. Very strange.
Posted by Evan @ 05/27/14 11:30 PM | Comments (0)

&nbsp &nbsp
Tweet
---
26 May 2014
David Dewhurst and his allies sink to new lows
Is there anything that David Dewhurst and his allies won't say to tear down a rival? Are there any depths of deception they won't plumb?
Yesterday a blogger -- who has taken up the cause of the country club wing of the party -- posted a disgusting attack piece on Dan Patrick. Apparently Dan Patrick has gotten angry a few times in the past years over stuff in the legislature. Truly shocking, isn't it?
Don't most people get angry every now and then over the goings-on in Austin? Some doctor with no relationship to Patrick attempting to tie that to something 30 years ago is gutter politics at its worst.
I'm no fan of Dan Patrick, as I think everyone who has visited this blog over the past few months can attest. But it is appalling to have doctors making insidious insinuations based on diagnoses-from-afar over private health records from 30 years ago.
Posted by Evan @ 05/26/14 03:10 PM | Comments (0)

&nbsp &nbsp
Tweet
---
21 May 2014
Why most politicians should not do their own tweeting
This is not exactly senatorial:
Did so great against Pete Sessions "@CoachRogers92: Only mistake we've made was not running @KatrinaPierson vs RINO @JohnCornyn"

— JohnCornyn (@JohnCornyn) May 21, 2014
John Cornyn should probably refrain from gloating. He got under 60% against a field of folks no one had ever heard of and Steve Stockman, whose campaign was so listless that some termed it "performance art" rather than a campaign. He spent something like $10 million, not counting the millions more in outside spending that attacked Stockman.
Katrina Pierson lost big to Pete Sessions. On the other hand, Sessions arguably has a more conservative record than Cornyn while representing a district far less conservative than Texas as a whole.
Definitely smarter to let this one go if you're John Cornyn.
Posted by Evan @ 05/21/14 08:35 PM | Comments (0)

&nbsp &nbsp
Tweet
---
16 May 2014
Desperate times apparently call for even more desperate measures
It is interesting to me that several senators have issued a press release commenting on attacks on Dan Patrick.
Most of us have known about this for a long time. If you wanted to bring it up, then you needed to do so before the primary. Now that Dewhurst is going crazy with falsehoods, it's too late.
Posted by Evan @ 05/16/14 12:01 AM | Comments (0)

&nbsp &nbsp
Tweet
---
15 May 2014
Navarette on Van de Putte
Leticia Van de Putte is a career politician who has been in the Texas Legislature since 1990. And she still needs help from Eva Longoria to inform Latinos that she's one of them? Among other things, she has sided with teachers unions who oppose education reform over Latino parents who support it. Who has she been working for all this time? Not Latinos. Or they'd know who she is.

Who is Leticia Van de Putte? Vouched for by Eva Longoria and Howard Dean. Funded by a Latino PAC. Profiled by CNN, The New York Times and The Washington Post. Unveiled, with great fanfare, to people she is already supposed to represent.

I'll play along. Hola, Leticia. Nice to meet you.
Wait, you mean the woman who chaired Barack Obama's DNC convention isn't the new chosen one to turn Texas blue? Shocker!
Posted by Evan @ 05/15/14 11:21 AM | Comments (0)

&nbsp &nbsp
Tweet
---
14 May 2014
David Dewhurst does not deserve re-election
Does David Dewhurst think so little of Texas Republicans that he won't try telling us the truth? Did he learn anything from his last loss?
If you'd have asked me six months ago who I would support in a hypothetical Patrick v Dewhurst runoff, I would have said Dewhurst. But Dewhurst continues to reach such new depths of pathetic that I can no longer say that.
Stop lying about your opponent. Dannie Goeb didn't become Dan Patrick "to cover [his] past, to cover his bankruptcy" as one Dewhurst ad claims. Goeb started using the name Dan Patrick years before his bankruptcy. Does Dewhurst think Republican primary voters are too dumb to realize this?
Stop concealing your record. You'd think Dewhurst was the second coming of Ronald Reagan based on his campaign claims. He's not. The Dew is the guy who ignored the grassroots for a decade while telling everyone in Austin how moderate he was. Even if only marginally so, his record is clearly and undebatably to the left of Patrick.
Stop hawking the same dumb tactic. Dewhurst trashed Ted Cruz with falsehoods at RealTedCruz.com. It bombed. Now he's doing the same thing with RealDanPatrick.com. Is Dewhurst trying to remind Texas Republicans of his nasty, dishonest and scurrilous attacks on Cruz?
Why can't Dewhurst actually run on issues? Over almost two decades now, we've never really seen a Dewhurst campaign for office that offered much more than pablum.
I have issues with Dan Patrick. But I can't brook Dewhurst's dishonesty.
Posted by Evan @ 05/14/14 11:03 PM | Comments (0)

&nbsp &nbsp
Tweet
---
[Previous 10 Entries]
[Next 10 Entries]